Summary: Superman has his first encounter with the Justice League's latest recruit: Captain Marvel, a champion that embodies everything that is exemplary and noble about superheroes. This makes the Man of Steel—who is used to being the measure upon which all other heroes are measured—more than a little jealous, and these flames are fanned further when Marvel unwittingly endorses Lex Luthor's presidential campaign. These hostilities come to a head when the World's Mightiest Mortal comes to Luthor's defense when Superman suspects that he has planted a bomb in his Lexor City project and, in the aftermath of a fierce battle, Superman must question whether he's still deserving of his "boy scout" image.
JL Mission Roll Call: Superman, Batman, Captain Marvel, Metamorpho, Elongated Man
PC Roll Call: Amanda Waller, Lex Luthor
, Dr. Emil Hamilton
CR Roll Call: Black Mass, Shatterfist, Crowbar, Fastball
Featured Characters: Superman, Captain Marvel
Villain: Lex Luthor
Supporting Villains: Amanda Waller, Dr. Emil Hamilton, Parasite, The Cadre
Cartoon Network on "Clash": "The world's mightiest mortal, Captain Marvel, joins the Justice League, but even his power may not be enough to foil Lex Luthor's latest plot (courtesy of The World's Finest)."
J.M. DeMatteis on "Clash": "Captain Marvel and Superman in a good old-fashioned, wreck-the-city punch up…while Lex Luthor grins maliciously. It's my fifth, and last, episode this year. It's been a great gig and I've loved working with Dwayne [McDuffie] and Stan Berkowitz and the whole JLU team (courtesy of Silver Bullet Comics)."
Bruce Timm on the Atom in "Clash": "There's actually no way in hell we could justify paying John McGinley a full voice over fee just to say one line of dialogue—the accounting department would be all over us like a bad rash! So, knowing how versatile John is, we had him do double-duty in this episode (he played the 'Bill O'Reilly'-type guy, not William Sanderson) and, thus, could afford to bring him in to voice Atom as well (courtesy of Toon Zone)."
Images
Clash Image #1 | Clash Image #2
Commentary
Commentary coming soon!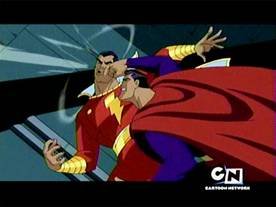 Images courtesy of The Bruce Timm Gallery, timmfans, and Toon Zone.