Summary: With Superman away on a mission and the League already spread thin, Mr. Terrific assigns Green Arrow, Vigilante, Stargirl, S.T.R.I.P.E., and the Shining Knight to represent the Justice League at the annual Metro Merchants Parade in Metropolis. However, their parade detail doesn't turn out as planned, as General Eiling, still convinced of the threat the Justice League poses, steals an experimental super-soldier serum and attacks the parade, hoping to take on Superman. Joined in the fight by the Crimson Avenger and Speedy, these seven heroes must hold their own against a foe that is way out of their weight class.
"SSoV" Roll Call: Green Arrow, Crimson Avenger, Shining Knight, Speedy, Stargirl, S.T.R.I.P.E., Vigilante
Featured Characters: General Wade Eiling, Shining Knight
Villain: General Wade Eiling
Cartoon Network on "Patriot Act": "When an out-of-control super-soldier threatens Metropolis, Green Arrow leads seven non-powered Justice Leaguers, including Crimson Avenger and Shining Knight, in a battle they can't hope to win (courtesy of The World's Finest)."
Matt Wayne on "Patriot Act" #1: "Joaquim Dos Santos directed 'Patriot Act,' but the Spy Smasher teaser was by Dan Riba, who's a big fan of old movie serials. It's a fun homage, down to the sound effects and the way Spy Smasher's Gyro-Sub stutters across the screen like an animated model. And those bare-knuckle fight really make the supervillain brawl in the main story seem bigger.
"There's a nod to last year's Cadmus storyline, which means I got to write a scene for C.C.H. Pounder as Waller and J.K. Simmons as General Eiling. If it weren't for the way they knocked this scene out of the park (and for Joaquim's direction—he's not just an action wunderkind), the melee in the second half wouldn't be as scary. They put across the idea that Eiling's close to the edge, without the kind of histrionics you've seen a million times.
"[Finally], this script's kind of a watershed for me. In the course of writing it, I started to feel like I'm part of the JLU team (courtesy of [website name removed])."
Matt Wayne on "Patriot Act" #2: "Okay, here's the thing: I was not writing about politics or critiquing American foreign policy […] most ten-year-olds would understand that the General was only trying to make his tantrum about America, but it was really just an excuse to act out. You really have to work hard to miss it. The General represents a supervillain: a general gone rogue. That's all. The people who look at him and see another attack from the liberals have issues that no amount of writing about cartoons on the Internet can relieve.
"Heroes should be heroic, like firemen. That was the big 'message.' If people object to the heroes' winning without braining the bad guy and spitting on his corpse, well…that's a matter of taste. But calling me anti-American over some unimagined slight is just moronic (courtesy of DwayneMcDuffie.com)."
Bruce Timm on a deleted scene from "Patriot Act": "Before editing, General [Eiling] threw Stargirl at Shining Knight, and Shiny didn't even try to catch her [and] just kept after [the] General. [This] seemed very un-chivalrous to us in the editing room, so we cut the scene short to eliminate the Stargirl toss. […] The un-edited shot appears in the previous episode's end credits (courtesy of Toon Zone)."
Commentary
Commentary coming soon!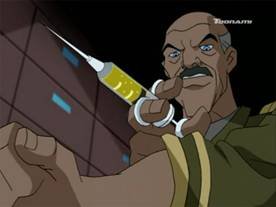 Image courtesy of Toon Zone.