The Metamen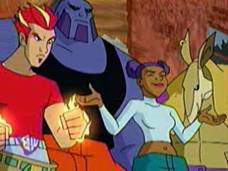 An assembly of Static's enemies, they had the misfortune of making their debut the same day that the Justice League came looking for his help.

Puff (voiced by Kimberly Brooks)
Real Name: ???
A bounty hunter, Puff has the ability to transmute her body into a gaseous form, as well as manipulate her breath into acid or ice.

Onyx (voiced by ---)
Real Name: ???
Puff's partner-in-crime, this silent behemoth possesses a body of solid stone.

Hot Streak (voiced by Danny Cooksey)
Real Name: Francis "F-Stop" Stone
Originally a hotheaded bully at Virgil's school, Francis Stone developed into a "bang baby" that can control fire.

Camen Dillo (voiced by Jason Marsden)
Real Name: ???
Resembling a mutated armadillo, Camen Dillo possesses a bulletproof hide and the ability to launch himself as a projectile.
Commentary
A team-up between the Justice League and Static Shock would not have been complete without an appearance by some members of Static's Rogue's Gallery. Overall, they did their job of moving the plot along, but one gets the sense that they were out of their league as soon as The Flash raced into Dakota.
Images courtesy of Toon Zone.