Solomon Grundy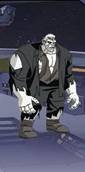 Real Name: Cyrus Gold
Voiced by Mark Hamill
He is a big, hulking zombie with the muscle to crush any of our heroes (courtesy of Cartoon Network press materials).
Excerpts from the Justice League Panel at the 2001 San Diego Comic Con:
James Tucker: We've been wanting to do Solomon Grundy for years.
Bruce Timm: We tried to do him in the old Superman show, but for some reason the story just never gelled and we never got around to it. Yeah, I love Grundy…I can't really explain what he is…he's just this big hulking critter. We all know his back-story, but we don't really get into it in the episode. You guys know who he is: he's either a zombie or he's whatever you want to say he is. The reason Mark [Hamill] is playing him is [because] the Joker is also in the episode—so we had Mark in—[and we] thought, "Oh, it would be kind of fun to have Mark play him." And he sounded great.
Courtesy of Revolution Science Fiction and Comics2Film.
Mighty Isis on Solomon Grundy: "One of the coolest things about Grundy is his voice, provided by Mark Hamill. Wow! This character sounds nothing like the Joker (also voiced by Hamill)—Grundy speaks in a low, plodding rumble…very gruff. Rejoice in the fact that this version doesn't have a bad Southern accent like the character did in [Superfriends]. He's also more childlike—but still malicious—yet he's not quite as mindless as folks like Jeph Loeb and Tim Sale have recently rendered him [in Batman: The Long Halloween and Batman: Dark Victory]. This Grundy can carry on a conversation, seems to be pretty perceptive, and even has a [little bit of a] juvenile sense of humor. He is [also], of course, invulnerable, extremely strong, and big (courtesy of Toon Zone)."
Images
Solomon Grundy Image - Small | Solomon Grundy Image - Large
Commentary
A longtime DC Comics' supervillain, Solomon Grundy is a natural fit in the Justice League's Rogues Gallery, providing muscle and versatility to their line-up. However, when deciding how to portray the character (who has been used in multiple ways over the decades), it appears that the creative team has infused this incarnation of Grundy with the anger, sensibilities, and strength-level of The Hulk. More of a rampaging powerhouse than ever, Solomon Grundy can easily take on whatever the League can throw at him.
In the recent Starman series (which provided a revised Modern origin for the character) it was revealed that Cyrus Gold, a wealthy merchant, was slain and dumped into the swamps outside Gotham City in 1894, where he emerged fifty years later as a swamp beast (just in time for the Golden Age). Following his resurrection, he wandered into a hobo camp, where he was named "Solomon Grundy" by the inhabitants because all he could remember was that he was "born on a Monday." The hobos convinced Solomon Grundy to help in a robbery and that was the beginning of his second life.
It was also revealed that whenever Solomon Grundy dies he regenerates and then comes back to life with a different facet of Gold's original personality at the forefront of his own (which is why he's sometimes intelligent, sometimes mindless, sometimes good, and sometimes bad). I can't help but wonder if he'll die and come back a few times in the Justice League as well.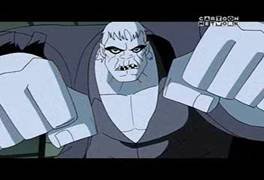 Images courtesy of Warner Bros. Online UK, Cinescape, and Toon Zone.