Firefly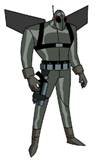 Real Name: Garfield Lynns
Voiced by Mark Rolston
A pyrotechnic and special effects genius, Garfield Lynns worked for his former girlfriend, pop singer Cassidy, until his obsessive nature drove a wedge between them. Fired from his job and unable to handle the rejection, Garfield donned a fireproof costume to become Firefly, a pyromaniac sworn to avenge himself against everyone who burned him in the past, including Cassidy and Batman.
Commentary
The second member of Batman's Rogues Gallery to appear on Justice League, Firefly provides a memorable cameo alongside Volcana, a villainess who he immediately falls into lust over. Considered a lightweight by Volcana, Firefly may prove to be a problem for her in the future if he obsesses over her like he did for Cassidy in the Batman episode Torch Song.
Finally, those who wonder why Firefly was not kept in Arkham Asylum should keep in mind that, while obsessive and a pyromaniac, he's not crazy in the same way that, say, the Joker or Scarecrow are.

Like fellow
Gotham
criminals Catwoman and The Penguin, not every Rogue is sent to Arkham—Firefly probably spent time in
Gotham
's Stonegate Prison, but was transferred to Styker's in Metropolis due to its specialization in housing costumed villains.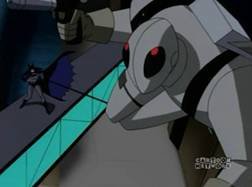 Images courtesy of New Batman/Superman Adventures Homepage and The World's Finest.