Welcome to the Justice League Watchtower, the Internet's premiere fan site dedicated to Cartoon Network's animated, non-Superfriends adventures of DC Comics' legendary superhero team! Designed to be an alternative to most fan sites—which mainly provide some news and a couple of promotional pics from the series—this web site offers more of a critical study of the show, with relevant quotes from show creators, literary analysis of the characters and their adaptation from the comic books, and a play-by-play of the show from conception to premiere. Think of this as the DVD special features of the Justice League series, providing non-comic book fans (and fans who aren't privy to DC Comics' 70+ years of history) a peak behind the curtain at the imagination and hard work that went into prepping these comic book icons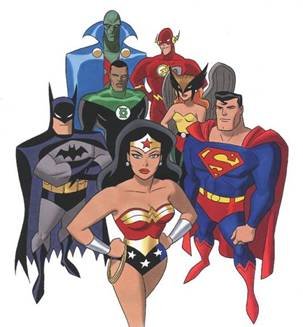 for animated stardom.
Of course, it would be impossible to discuss this series without putting it into context with the series' precursors—this show would not exist today if it were not for the tireless efforts of Bruce Timm, Paul Dini, Alan Burnett, Stan Berkowitz, Dwayne McDuffie, James Tucker, and the countless others who have comprised a creative team that has, more or less, stuck together and created magic since 1992's Batman series. Linked together through continuity and talent, this chain of animated shows—Batman: The Animated Series, The Adventures of Batman and Robin, Superman, The New Batman Adventures, The Batman / Superman Adventures, Batman Beyond, Justice League, and Justice League Unlimited—share a unity virtually unheard of in today's fickle market. Dubbed the DC Animated Universe (or DCAU for short) by fans, it is a testament to the quality of these shows that they have managed to survive twelve years, three network changes, and competition with the "flavor of the month" to remain a favorite with critics and fans alike…especially with no big-budget films to tie into and only rudimentary attempts at toy lines on behalf of Hasbro and Mattel.
If recent interviews are any indication, Justice League Unlimited may be the last permutation of this extended series; but at least they'll go out with a bang. Here, the Justice League—Superman, Batman, Wonder Woman, Green Lantern, Flash, Hawkgirl, and J'onn J'onzz (also known as the Martian Manhunter)—are joined in their never-ending battle by an army of DC Comics' heroes—a group ranging from classic icons like Green Arrow and Captain Atom to more obscure heroes such as Aztek, B'wana Beast, and Vigilante. Together, this massive organization will continue to fight injustice, whether it come in the form of alien invasions, malevolent deities, criminal masterminds, or armies of supervillains.
Identifications scans complete. Welcome to the Watchtower.
Justice League Series Information
Who's Who in the Legion of Doom?
Justice League - Core Team
J'onn J'onzz—The Martian Manhunter
Justice League - Extended Team
Jason Blood and Etrigan the Demon
Justice League Guest Stars
Justice League Villains
The Watchtower Files
The Villains of the Justice League
Supporting Villains in the Justice League
The Injustice Gang / Secret Society History
The Trophy Room - Freeze-Framing Justice League
Pre-Season One
The Call (Batman Beyond #46-47)
Pilot - Test Animation Footage
Season One
Paradise Lost (#10-11)
The Brave and the Bold (#14-15)
Season Two
Season Three
For the Man Who Has Everything (#54)
The Greatest Story Never Told (#60)
The Once and Future Thing: Weird Western Tales & Time, Warped (#64-65)
Season Four
Season Five
Chaos at the Earth's Core (#81)
Far From Home (#88)
Ancient History (#89)
Alive (#90)
Destroyer (#91)
Static Shock Crossovers
Possible Upcoming Storylines
Justice League: World's Collide
Possible Upcoming Characters

Justice League and all related characters, names, and images are copyrighted to DC Comics and are used without permission. Justice League and Justice League Unlimited are properties of Cartoon Network. All rights reserved. All excerpts from interviews are accredited to their respective sources. All images used are courtesy of DC Comics and Cartoon Network in addition to their respective sources. The above images are courtesy of Toon Zone and The World's Finest.
The website Comics Continuum does not wish to be directly mentioned on Toon Zone or its affiliated websites (such as this one) for undisclosed reasons. Therefore, any information from that particular site will be credited to "[website name removed]."
This site is maintained by Joseph Davis. Please email any comments you might have to jlwatchtower@hotmail.com.